Is there any trouble in Blu-ray rip with MakeMKV when its website is down? Now, MakeMKV up,  but who knows when it will down again? To copy and decrypt BD and UHD safely without any limits, don't miss the promotion of a MakeMKV alternative: 50% OFF for all BD and UHD singles and bundles by the end of May 1st (Discount Code: 50FORMKV).
If you want to use MakeMKV to rip Blu ray on Mac, download MakeMKV first. Then remove the copy protection embedded in your Blu-ray files. Insert your Blu ray disc for MakeMKV to analyze it. Follow the navigation MakeMKV provides and convert Blu ray to MKV format. Continue to read and I will provide more details about how to use MakeMKV on Mac to Rip Blu ray in this article.
How MakeMKV on Mac Works
As an MKV DVD and Blu ray ripper, MakeMKV on Mac is responsible to decode, encode your DVDs or Blu rays, and output them in the format of MKV. This software is compatible with Windows, Mac, and Linux, able to eradicate copy protections except for Cinavia.
Download MakeMKV on Mac
Now, we come to how to download MakeMKV on Mac (www.makemkv.com.mac). Before doing that, you should be clear that MakeMKV has two versions: MakeMKV beta and MakeMKV paid. Now, the MakeMKV beta for Mac OS X has updated to the version 1.14.7. No money will be charged if you choose MakeMKV beta. But, you have to pay $50 for the version of MakeMKV Full on Mac. Make a decision based on your needs. During this process, if you fail to find a MakeMKV beta key, refer to another article.
Note: The current MakeMKV beta key valid until July 2021:
T-oDpQwQnTwMvNEFulk0bRciM7SWtVkY9ODCy8g8q1oHjUwZWkX0bkAPNZmCaKVNoWZv

How to Use MakeMKV on Mac
After installing MakeMKV on Mac, let's learn how to use it. In order to make your Blu rays ripping process smoothly, there is something you need to prepare.
(1) Things needed before Operating MakeMKV on Mac
A Blu ray Drive: How MakeMKV on Mac reads your Blu ray disc? You need to import your file to your computer. Considering not all our computers have a drive, you need to prepare such a device in advance. With a Blu ray drive in hand, you cannot just input your Blu ray disc, but your DVD disc.
60GB Hard Disk: Although Blu-ray video is good for looking, it really accounts for much space, approximately 20-50 GB. So, preparing a bigger hard disk which will make your Blu-ray disc well ripped by MakeMKV on Mac.
If you choose other MakeMKV alternatives, a Blu-ray drive and a big hard disk are both required.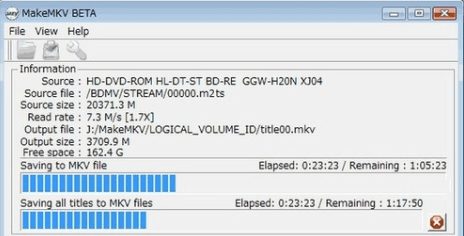 Rip Blu-ray to MKV with MakeMKV on Mac:
Insert your Blu ray disc into your drive
Start MakeMKV and load the Blu ray file
Select the "Title" you desire to rip
Set the Output Folder
Click the "Make MKV" button and start Blu ray ripping
Weakness of Ripping Blu-rays with MakeMKV on Mac
Despite MakeMKV on Mac is easy to use, there is some weakness when you choose this software. First, you can convert your Blu-ray disc only to MKV format with MakeMKV on Mac. Such MKV files may be unable to play back on certain devices. Second, it is a long journey to rip Blu rays with MakeMKV on Mac, due to its low speed. So, you have to be patient if you have no other choices.
Features of MakeMKV Alternative on Mac
Luckily, there are some MakeMKV alternatives on Mac to compensate for the weakness of MakeMKV on Mac. You can ask these Blu-ray rippers for help in pursuit of diversified output video/audio formats and high speed. Now, I will brief you on the features of one of the Blu-ray rippers featuring DVDFab Blu-ray Ripper. It accepts both single Blu-ray ripping and batches Blu ray ripping.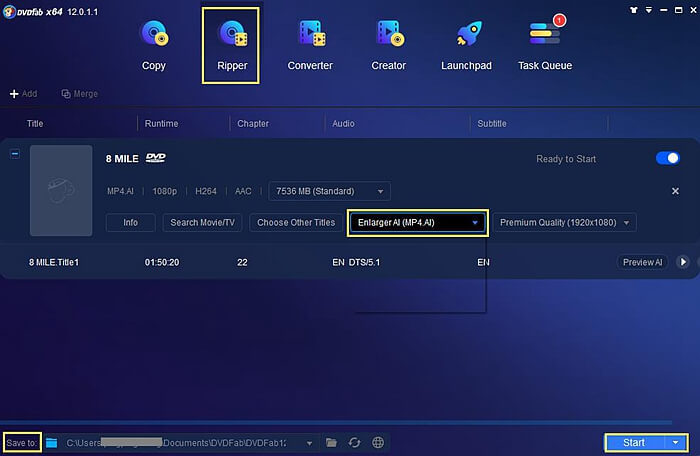 (1) AI for Video Enhancement
DVDFab Blu-ray Ripper is the top alternative of MakeMKV on Mac. With the assistance of AI technology, this free software helps you enhance your video quality largely by 300% up to 4K level. So, don't worry that your Blu-ray disc is old. DVDFab is skillful at upscaling your video images automatically after receiving your order of "Enlarger AI".
Till now, the function of "Enlarger AI" not just exists in DVDFab Blu-ray Ripper, DVDFab DVD Ripper, and Copy as well as DVDFab Video Converter also has the same capability.
(2) Video Editor for Customization
With 4K video quality as support, DVDFab Blu-ray Ripper, a free alternative of MakeMKV on Mac also enables users to customize their videos at will. Would you like to set the Frame, Rate, Encoding Method, Bit Rate, Output Size, and others of your video or audio? Go through "Advanced Settings". Then, the "Video Edit" option is more powerful. It allows users to add Text, Music, Image, Subtitle to your video, change your video properties, and Trim/Merge it. For more information on this video editor, welcome to explore the main interface of this alternative of MakeMKV on Mac.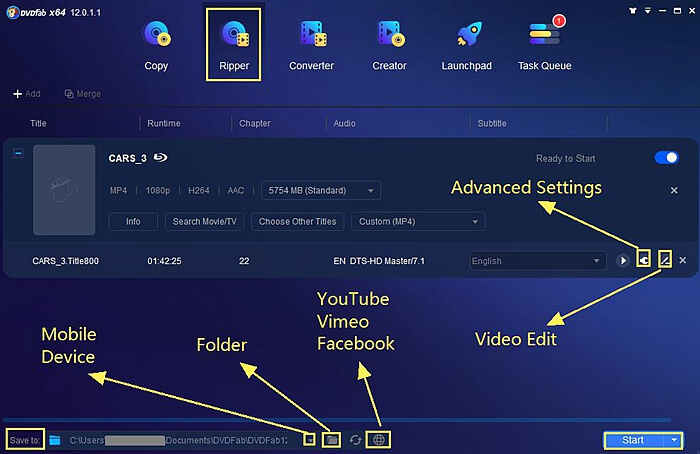 (3) Cinavia Removal for Copy Protection
DVDFab Blu-ray Ripper, the alternative of MakeMKV on Mac, is the only solution to get rid of the Cinavia protection, the most strong protection embedded in a disc. That is not a single battle, but a collaboration with DVDFab Blu-ray Cinavia Removal. Free download it and it will work with MakeMKV alternative to rip your Blu-rays easily.
(4) Diversified Output Formats
To meet users' demands, DVDFab Blu-ray Ripper, a competitive alternative of MakeMKV on Mac provides more output formats than MakeMKV. There are MP4, MKV, MOV, WMV, AVI, FLAC, MPEG, M2TS, VOB, TS, etc, while there is only MKV for MakeMKV.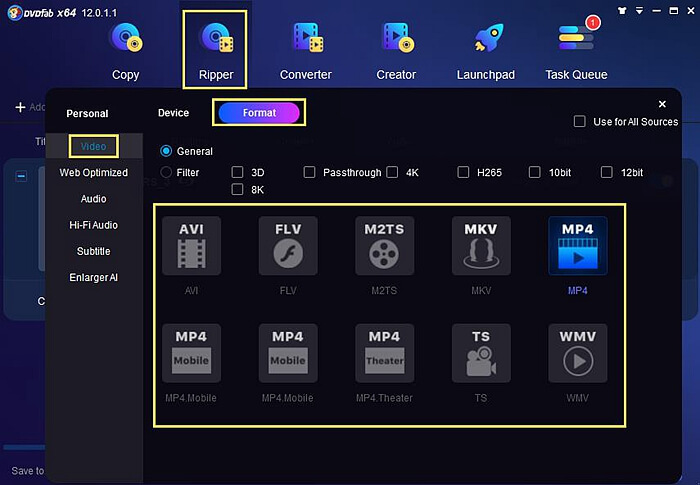 (5) Fast Ripping Speed
Choosing this alternative of MakeMKV on Mac to rip Blu-rays, the top advantage is fast speed empowered by HDR acceleration. Once you insert your Blu-ray disc into your drive, DVDFab Blu-ray Ripper will work fast to display the main information of your Blu-ray video. Even a beginner is skillful at using it.
To use DVDFab Blu-ray Ripper, you need to download and install this alternative of MakeMKV on Mac first. Then, start it and choose the module of "Ripper". Load your Blu-ray disc and choose the output format. You can customize it and enhance the video quality based on your preference. After all things finished, set the output destination and click "Start".
Besides DVDFab Blu-ray Ripper, other alternatives of MakeMKV on Mac also works. Namely, Aurora, VLC Player, WonderFox DVD Ripper, and Open DVD Ripper. You can choose any of them to rip your Blu-ray files.
Conclusion
Have you got the hang of "use MakeMKV on Mac"? If you are not content with only MKV format, you can turn to alternatives of MakeMKV on Mac for help. Remember to choose a good Blu-ray ripper based on its ability to enhance video quality, customize the video, remove copy protection, and process your files.
Related Articles: